Hi-Quality 3D Animated Devices for After Effects Element3D – includes iPhone 14 Pro Max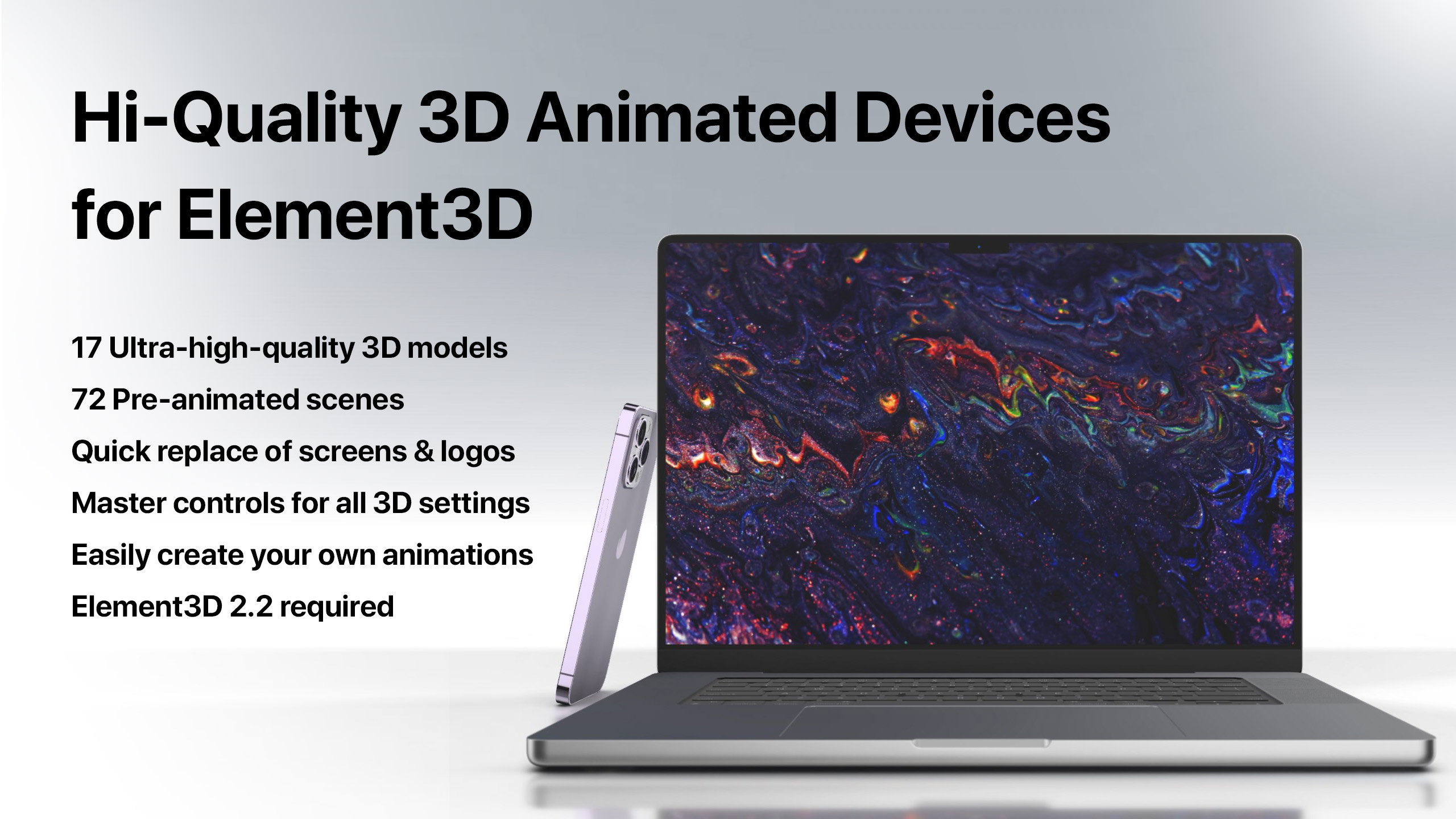 Everything you need – iPhone 14 Pro Max included!
This pack an After Effects project file contains 72 animations based on 15 real 3D Apple devices – includes iPhone 14 Pro Max, MacBook Pro 13″ and 16″, iPad Pro (with Magic Keyboard and Pencil), iPad Air and iPad Mini, iMac 24″ and 27″ (with Keyboard and Mouse), MacPro with Display XDR, Watch.
Time saver
It's never been easier to create your own videos. Takes a moment to put an image or a video into the screen of a device, in all scenes containing that device.
A world of possibilities
15 high-quality 3D devices
72 pre-animated compositions in 4K
Easily replace screens and logo
Tiltable MacBook screens
Quick-to-animate pencil movement system on iPad screen
One layer master control for all settings across compositions
Adjust everything from 3D models to floor, 360 degree backdrop, lights, reflections and shadows
Easily create new scenes with your selected 3D models
Highest quality
A lot of attention was put into creating the best looking 3D scenes – a combination of highly detailed 3D models and superior environment lights, shadows, reflections and colors.
Your way
All scenes were created to be easily adjusted from a master composition – quickly changing all properties of the 3D environment. You want a different a white or a red background and no shadows? Takes a moment. Logos and screens are instantly replaceable.
3D animator?
3D models included come in .obj format. That means you can also use them in any 3D animation software such as 3Ds Max, Blender or Maya.
Element3D 2.2 is required.